International Relations, Webster University Vienna
The International Relations program at Webster University Vienna prepares students for leadership and service in the international diplomatic, professional, and academic communities. Led by a team of internationally recognized researchers, lecturers, and scholar-practitioners, students examine great powers politics, humanitarian issues, and the dynamics of the international political economy, learning how to employ competing theories, methods, and approaches.

The international nature of the faculty and student body enriches students' on-campus academic experience while exposing them to one of the world's premier centers of international activity; home to the UN, UNIDO, IAEA, and the OSCE where many Webster International Relations graduates go on to work. Our graduates are regularly admitted into prestigious post-graduate programs at Oxford, Cambridge, Columbia, John Hopkins, Georgetown and the London School of Economics. Many of our graduates go on to top careers in politics, international business, and NGOs; and an increasing number are going on to successful completion of Ph.D. programs in Europe and the United States.
---
Dr. Franco Algieri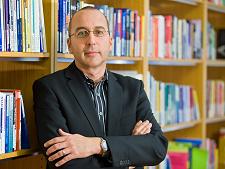 Franco Algieri has been Associate Professor of International Relations at Webster University Vienna since 2013 and Head of the International Relations Department since 2014.

From April 2008 to July 2013 he was Director of Research at the Austrian Institute for European and Security Policy (AIES). Prior to that he worked as a Research Fellow at the Institute for European Politics in Bonn (1991-1994) and at the Research Group on European Affairs, Johannes-Gutenberg University Mainz (1994-1995), and later as a Senior Research Fellow at the Center for Applied Policy Research (C.A.P), Ludwig-Maximilians University Munich (1995-2008). He was lecturing Political Science at the Institut für Politikwissenschaft, Eberhard-Karls University Tübingen and at the Geschwister-Scholl-Institut, Ludwig-Maximilians University Munich. In 2000 he was appointed Guest Professor at the School of International Studies and Senior Fellow at the Centre for European Studies, both at the Renmin University of China, Beijing.

Franco Algieri studied Political Science and Sinology in Freiburg, Tübingen and Taipei, and European Studies in Bruges. He received his doctorate and M.A. both from the Eberhard-Karls-University Tübingen, and a Diploma of Advanced European Studies from the College of Europe, Bruges.

His research focus covers European and Asian security issues, the European integration process and EU-Asia relations (with special emphasis on EU-China relations). He has published widely on these topics.